MissionFromDog was set up to make a bad situation better. It started 30 years ago when I got my first guitar and found a love for music.  Especially creating it.  Skip ahead twenty-five years and you'll find me married to the love of my life, Paula.  We live in Chicago, have two beautiful boys Otto and Nelson, two cats (RayRay and Ace), two fish (Cheeseburger and HalfHalf) a dog named Leeloo.  We were screaming along as creative folks working our dayjobs with no real complaints until Paula found a lump.  Skip ahead a few more years and we're in the trenches — with Paula battling her way through Metastatic Breast Cancer. 
Updated 2021:
Unfortunately Paula lost her life in August of 2016 after a long and very rough battle with breast cancer.  The boys and I continue to marvel at what an incredible spirit she was and feel fortunate to have had a chance to spend a few quality years with her.  Fast forward to 2021, and I've been lucky enough to meet Michele, marry, and move forward in life with renewed energy and love and an incredible sense of feeling blessed.  I continue to (grow old as shit) write and record music, with a new album in the works hopefully to release end of 2021.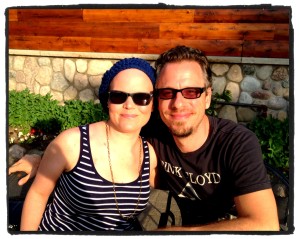 So… If you find this, head on over to my bandcamp, take a listen, buy a song, or donate to any cancer research site of your choosing.  Or just say hi.
– Casey